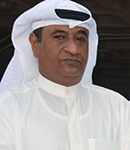 This year I joined a leading educational platform and a unique educational destination. I am proud to work in the field of education in Al-Wataniya School with its honorable long history and I ask God it continues excellence , progress and prosperity. 
Al-Wataniya School provides its children with a pioneering teaching staff and modern teaching aids that uplift their minds and provide them with modern education from a sophisticated perspective that copes with the technology of the present and future.
Al-Wataniya School tells the story of the compatibility and harmony between the present and the future; between authenticity and contemporary so I hope for all the genius, peasant and excellence 
My message to my students is to do their best and make sure to organize their time to achieve the desired excellence and success.
Mr. Khalid Al-Mejaibl
Principal of intermediate school